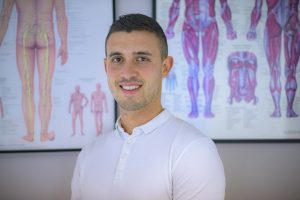 Conor Sheils, Sports Therapist
BSc Hons Degree in Sports Therapy – member of the society of sports therapists (SST)
Sport has always been a huge part of my life. The feeling you get from daily physical activity not only has a huge positive outcome on your physical well-being but also impacts your psychological state in a similarly positive manner. Over the years, I have played a wide range of sports. Like anybody else, I stuck to the ones I was good at. Soccer and golf. I would have competed in boxing, swam competitively and played G.A.A too but I simply did not have the time! I knew my career would in some way, shape or form revolve around sport.
In 2010 I became a qualified personal trainer after studying anatomy and physiology. I was amazed to discover the capabilities the human body has to, adapt to different training systems and its incredible ability to heal itself. I have been working in the health and fitness industry ever since. I was personally training clients and helping them all achieve their fitness goals. I am also a qualified swim teacher, boxing instructor, football coach and child protection officer.
I hold a Bachelor of Science Honours degree in Sports Therapy, having studied at Portobello Institute. I am highly skilled in the treatment and management of all sports related injuries. Whether the injuries are acute or chronic, I assess them using a holistic approach. Each client that comes to me with an injury will be tested for muscular imbalances or other biomechanical faults that may attribute to the injury. They will all receive some form of treatment using physical therapy techniques. Each client will also be educated and advised on the best management strategy plan for their specific injury and also an individualised tailored rehabilitation programme in order to optimise recovery and reduce the risk of re-injury.
I have gained the highest level of experience working with professional football teams such as Shamrock Rovers football club managed by and reporting to Irish football stars Damien Duff and Stephen Rice. I also have worked and travelled abroad with the F.A.I international mens amateur soccer team. I am currently the Sports therapist for Home Farm football club dealing with all of the clubs players. This invaluable experience coupled with my personal training qualifications gave rise to 'The AIR (athletic injury rehabilitation) clinic'.