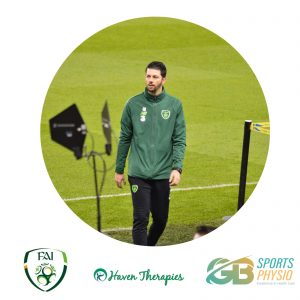 Glauber de Oliveira Barduzzi  – Physiotherapist
Since qualifying Glauber has worked in a number of places both in Brazil and Ireland. His main area of interest is in sports and musculoskeletal conditions having gained extensive experience in these areas during his time working in sports injury clinics and with a soccer team in Brazil and Ireland.
In 2014 Glauber started to work in The Physio Company/Spectrum Health, he works in two busy clinics Malahide and Ranelagh, he has rehabilitated successfully thousands of patients from children injuries, home and work injuries, people with disabilities, sports people, competitive and elite athletes.
After completing his Master in University College Dublin he was appointed head Physiotherapist with the first team in the soccer club Bray Wanderers Football Club in 2016, he worked in the SSE Airtricity Premier Division until 2018 with Bray Wanderers. Glauber was responsible for the development the clubs Physiotherapy department, and he worked with injury prevention strategies, injury rehabilitation, following a series of return to play protocols to safely return players to training and competition after injuries. During his time Bray Wanderers had a very low injury rate and this reflected in the performance of the team in the pitch where Bray Wanderers were a leading team in the year of 2017. The latest evidence shows that fewer injuries is closed related to team performance both in National and European Leagues.
Glauber joined in January 2017 the panel of Physiotherapist from the FAI Football Association of Ireland where he provides Physiotherapy services. His first international experience was in October 2017 with Under-17 in the European Championship, when Ireland finished 4th in Europe. In 2018 Glauber was appointed Under-18's Physiotherapist. During 2018-19 he was part of the Senior Team Physiotherapist in the Nations League and European qualifiers working in Martin O'Neill and Mick McCarthy. Glauber is currently Physiotherapist of Republic of Ireland U21's National soccer team.
Glauber also has experience in a wide variety of conditions with a special interest in degenerative conditions such as arthritis. He has a published study in knee osteoarthritis rehabilitation comparing water vs land exercises. Glauber has a great interest in tendinopathies and as part of his MSc. he investigated the prevalence and severity of Achilles tendon injuries among Premier and First Division soccer players in Ireland.
He is committed to CPD and evidence-based practice and has completed a number of postgraduate courses such as Mulligan technique, Kinesio taping, Assisted Soft Tissue Mobilization, Kinesio Taping. Glauber every year attends a number of international conferences.
https://www.gbsportsphysio.com/about-us
Physiotherapy Initial 70 euros
Physiotherapy follow up 65 euros
Shockwave therapy 90 euros