Sports Injuries Therapy Dublin
Sports people, from the GAA fanatic to the casual road-bowler are very familiar with the strains and sprains associated with their particular sport.
Some of these include:
Recurring hamstring problems
Calf strains
Achilles tendonitis
Runner's and jumper's knee
Groin strain
Tennis and golfers elbow
Rotator cuff problems.
These and many more sports injuries are diagnosed and treated at the clinic daily.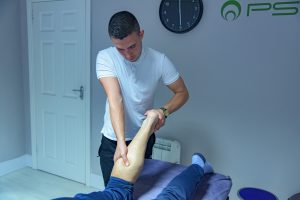 At Haven therapies we have a dedicated team of injury specialists equipped with expert knowledge and experience providing you with the highest quality of care. Specializing in all musculoskeletal injuries, acute or chronic, you will be given a plan tailored to your needs and specific to your sport. We understand how important sports can be and the frustration that goes along with an injury. We will make sure that you receive the best treatment and return to your sport with confidence and feeling strong.
We provide a 5 step plan for each individual presenting with their injuries. This ensures that you receive optimal care specific to your injury. Our goal is to commence the healing process straight away through advice and education on how to manage pain. Each client will be assessed for biomechanical faults, muscular imbalances, dysfunctional movements and their gait cycle. These tests will help lead to your diagnosis and indicate possible contributing factors. Once the diagnosis has been identified, the sports injury specialist will provide you with a sports specific rehabilitation program. The exercise program is designed to maximize the healing process and help you regain confidence upon returning to your respective sport.
The 5 step plan is as follows:
Client screening
Clinical assessment
Treatment
Pain management strategy
Sports specific rehabilitation programme
Client Screening
You will be asked some details in relation to the injury. This will include a description of any previous history of injuries, mechanism of injury, sport, and previous treatment. This part of your consultation is essential. Once consent has been granted to continue, the therapist will commence the assessment and treatment.
Clinical Assessment
In this part of your consultation you will undergo an array of clinical tests. All tests are pain free and are performed in order to diagnose the injury and identify the extent of the damage. The therapist will use active and passive movements that will help confirm the suspected injury diagnosis.
Treatment
Each individual will receive some form of treatment when visiting the clinic. The therapist will select some soft tissue techniques which include, myofascial release techniques, sports massage, deep tissue massage, mobilisations, PNF stretching and MET's to name a few. Each technique used will help speed up the healing process. They also have the added effects of providing you with pain relief and improving range of movement at effected area.
Pain management strategy
This part of your consultation will provide you with the information you need specific to your injury. A strategy plan will be put in place in order for you to reduce the pain on a daily basis. You will be advised on the best pain relieving modalities that you can implement at home in order to reduce your symptoms and avoid injury aggravation.
Sports specific rehabilitation programme
In order for any injury to heal properly, a rehabilitation exercise programme is of significant importance. These programmes will address your muscular imbalances or compensatory movements. To greatly reduce the risk of injury re-occurrence a programme must be followed. This may only take 15 minutes a day. Once you are doing your exercises and have your pain management strategy in place you are on the track to pain free movement and back to your sport stronger than before.